"Evil Eyes" Goats' Cheese Stuffed Tomatoes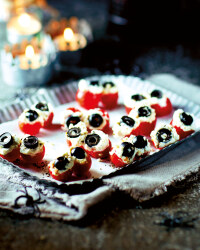 Recipe Information
Ingredients
1 pack Cocktail Vine Tomatoes
1 log Rind-off Goats' Cheese
150g Low-fat Garlic and Herb Cream Cheese
1 jar Black olives
½ tbsp Pepper
Method
1. Pre-heat the oven to 180°C/350°F/Gas Mark 4.
2. Halve the tomatoes and with a teaspoon, scoop out the middle and discard.
3. Mix together the goats' cheese, cream cheese and black pepper.
4. Fill all the tomato halves with the cheese mix.
5. Cut the olives in half into circles - not ovals.
6. Put half an olive into the middle of each tomato.
7. Place in the oven and bake for 15 minutes.