Vegetable wellington stuffed with a mixture of mushrooms, onions, pecans and garlic.
Festive Mushroom and Pecan Wellington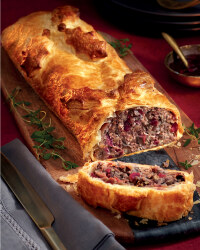 Recipe Information
Ingredients
2 x 375g packs Ready Rolled Puff Pastry
250g Chestnut Mushrooms
1 medium Red Onion
130g Cooked Beetroot
2 cloves Garlic
50g fresh Breadcrumbs
25g Salted Butter
40g Pecan Nuts
25g Sunshine Selection Seeds
250g pot Ricotta
25ml Rapeseed Oil
1 Medium Free Range Egg
5ml Milk
Sea Salt and Black Pepper
1 Holly Pastry Cutter
Method
Pre-heat the oven to 200°C/Gas Mark 6.
Peel the onion, halve and chop finely.
Peel and mince the garlic.
Wipe the mushrooms and chop finely.
Heat the oil and the butter in a large frying pan or wok – sauté the onion and the garlic for a few minutes on a low light.
Add the mushrooms and cook for another couple of minutes.
Put all the contents from the pan into a large bowl.
Finely chop the pecans and add to the mix.
Add the ricotta, seeds and breadcrumbs, then season with some salt and black pepper.
Finely dice the beetroot and add to the bowl, mixing well.
Roll out one of the sheets of pastry.
Put the mushroom mixture in the centre – in a log shape – allowing enough space to wrap the pastry around the filling.
Whisk the egg with the milk. With a pastry brush, seal the edges of the pastry with the egg wash and fold over the pastry to make an oblong brick shape.
Put onto a greased baking sheet on a tray with the pastry join underneath.
Cut some holly shapes out of the other sheet of pastry. Use the egg wash to stick them on the top, then glaze these with the wash.
Make a few slits in the pastry to allow the steam to escape.
Bake in the oven for 40 minutes until golden brown.