Filling and flavoursome, this Sea Bream recipe is a meal in itself
Moroccan Cous Cous Stuffed Sea Bream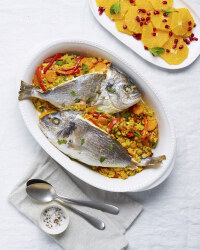 Recipe Information
Ingredients
Extra virgin olive oil
120g Instant Couscous
1 Red Onion
1 Bell Pepper
2 Carrots
Garlic clove
Sea Salt
Freshly Ground Black Pepper
100g Peas
240g Chickpeas
Chicken or Vegetable stock
Spices (to taste): Paprika, Turmeric, Cumin, Cinnamon
Method
Slice open the fish and drizzle with olive oil and season with sea salt and freshly ground black pepper.
Chop the red onion, peppers and carrots and cook lightly over a medium heat until tender.
Finely slice the garlic and add to the pan. Mix in a small amount of each spice, to your desired taste.
Add the peas and drain the chickpeas. Once the chickpeas have drained add to the pan along with the stock.
Add the couscous and stir through the mixture. Remove from heat and leave to stand until the liquid is absorbed and the couscous is fluffy.
Stuff the sea bream and cook through your preferred method; BBQ, oven or grill.
Approximate cooking time in the oven is 25-30 minutes at 220oC/Fan 200oC/Gas mark 7. The fish is cooked thoroughly when reached 72oC and the flesh flakes easily with fork.
These are guidelines only, as cooking appliances vary.