A fun recipe for kids in the kitchen! Recipe makes 6 lollies.
Passion Fruit and Yogurt Lollies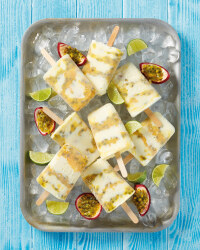 Recipe Information
Ingredients
400ml Authentic Greek Yogurt
2 ½ tbsp Honey
5 Passion Fruits
Method
Dilute the honey in 1 tablespoon of hot water.
Mix the honey and water with the yogurt.
Scrape out all of the passion fruit pulp and seeds into a jug.
Add a large spoonful of the yogurt mixture into each lolly mould, then pour a layer of passion fruit over the yogurt. Repeat in layers until the mould is full.
Add the mould lids and freeze overnight.
Once frozen, release your lollies by briefly running under hot water.