5 Year Old XO Brandy
Product Ref: 078035181995900
Product Information
By law we cannot sell this product to anyone under 18
Scented and elegant, this brandy has beautiful woody notes from being aged in oak casks for 5 years. This infusion results in a rich and complex flavour, complemented by hints of vanilla and nuts, creating a palate with a very smooth finish.
Please note this product is not available for delivery to Scotland.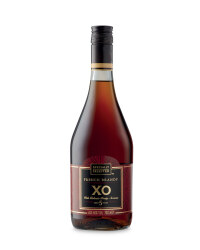 ABV:

40%

Bottle Size:

70cl

Origin:

France

Type:

Brandy

Units Per Bottle:

28

Units Per Serving:

1

Vegan:

Yes

Vegetarian:

Yes
Wine/Spirits Disclaimer
Prices and "Alcohol by Volume" or "ABV" measurements may be different in stores in Scotland due to minimum unit pricing laws. See in stores for details.