Aldi and Team GB challenged young people aged 5–14 to get creative and design an original recipe, inspired by Team GB. Sebastian, aged 10, was voted the winner in the 8-11 age category and his recipe is a really tasty and healthy vegetable soup with a cheese scone. "My recipe can easily be made vegan by swapping the dairy products for plant based alternatives."
8-11 YO - Sebastian (10) - Olympian Soup with Cheese Scone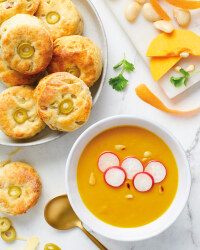 Recipe Information
Ingredients
Soup:
1 tbsp Coconut Oil
1 tbsp Olive Oil
2 Red Onions
6 Big Carrots
1 Butternut Squash
1 x tsp Ground Coriander
Sprinkle of dried Chilli Seeds
1.5 litres Boiling Water
1 Vegetable Stock Cube
1 tin of drained Butter Beans
1 x Radish
Handful of Pine Nuts
Scones:
250g Plain Flour
1.5 tsp Baking Powder
¼ tsp Bicarbonate of Soda
30g Unsalted Butter
60g grated Parmesan Cheese
60g grated Cheddar Cheese
200g Whole Milk
Sliced Olives (optional)
Method
Melt coconut and olive oil in a large pan.
Chop onions and carrots then sweat gently in pan for 10 minutes.
Add chopped squash and spices.
Add boiling water and stock cube, bring to the boil then simmer for 30 minutes.
Put oven on to 200C and line a tray with greaseproof paper.
Put the flour in a large mixing bowl then add in the baking powder and bicarbonate of soda.
Chop the butter into small cubes then rub into the flour.
Mix in the grated cheese and olives if using. Reserve some olive slices if you want to decorate the top of your scones with Olympic Rings.
Add the milk and mix to a sticky dough.
Turn onto a floured board. Dust your hands with flour and roll the dough in the flour.
Fold the dough in half twice then gently flatten out until it's about 3cm thick.
Use a scone cutter to cut out 8 (or 6 really big Olympian size) scones. It's best if you leave them for about 10 minutes before putting them in the oven for the raising agents to activate.
Bake for 15 minutes – they should sound hollow when tapped on the bottom if they are cooked.
Toast the pine nuts in a dry frying pan.
When the soup is ready blend it leaving a few lumps of vegetables if you like. Then you can add in the butter beans.
Finely slice the radishes to make Olympic rings.
Sprinkle soup with toasted pine nuts (optional) and serve with a warm cheese scone.
How is your recipe inspired by Team GB?
I wanted the bowl of soup to look like a gold medal so used orange veg and then baby beetroot to make the Olympic rings. The soup has lots of veg in it with toasted nuts and cheese from the scones to provide protein and energy. I also used sliced olives to make the Olympic rings on top of the scones.