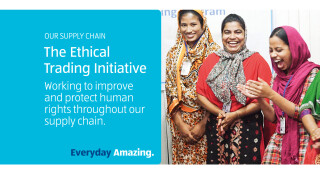 Our commitment to better working conditions across the world
In July 2019 we became a Foundation Member of the Ethical Trading Initiative (ETI), dedicated to working conditions in global supply chains by tackling issues such as slave labour, poor working conditions, child labour and low wages. We strongly believe in supporting basic human rights for all those working on our behalf, wherever they are in the world.
20 years of fighting for ethical trade
The ETI has been a driving force in improving workers' conditions for over two decades, and our membership as a global retailer will help the organisation increase its influence in the retail sector. It also builds on our continuing commitment to workers in our supply chains, following on from publishing our Human Rights Policy and carrying out a human rights assessment of our food and agriculture supply chains.
Helping us to improve lives
We're dedicated to operating with honesty and integrity wherever we do business. But some of the priority areas identified in our assessment can't be tackled alone – so we'll be working with ETI and its other members to further improve our ethical sourcing approach and make sure the human rights of those at all stages of our supply chain are respected and protected.