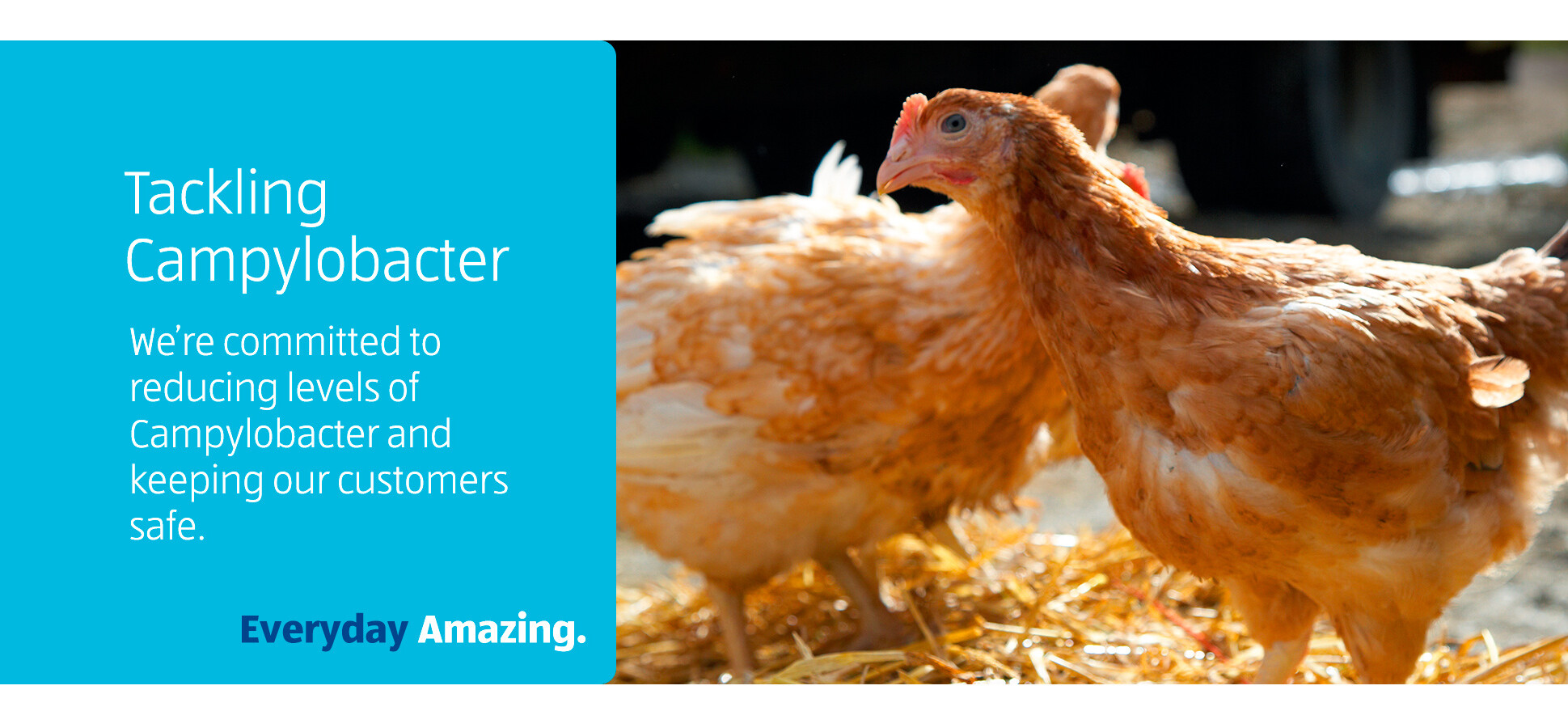 What is Campylobacter?
Campylobacter is the most common cause of bacterial food poisoning. It is naturally occurring and is found in many animals, most notably chickens.
Facing up to the challenge
We understand that we have a role to play to reduce the level of Campylobacter in the supply chain and to help raise awareness with our customers as to how they can handle fresh poultry in a safe manner.
The Food Standards Agency (FSA) has identified Campylobacter as a key priority and is working with those directly in the industry to tackle it. Aldi is dedicated to supporting the FSA in this goal, which is why we are a signatory of the Acting on Campylobacter Together (ACT) campaign.
As well as working with the FSA (and other industry bodies), we understand that we need to take a lead with our suppliers to deliver against the FSA target.
Aldi monitors the levels of Campylobacter carefully by compiling regular sets of independently verified data which is shared with the FSA via the BRC for the purposes of industry reporting. The results for Q3 2021 (July to September) show that 6.9% of birds were in the >1,000 cfu/g category. Our results are below the FSA target of less than 7% of birds in the >1,000 cfu/g category.

Comprehensive five-stage plan
It is important that Campylobacter is tackled from farm to fork. That's why we have a clear five-stage plan that covers every aspect of the supply chain.
We will closely monitor each of these initiatives in order to determine their impact in reducing levels.
Additionally, we are maintaining open dialogue with our suppliers, the FSA and other industry bodies to ensure that we incorporate relevant advances in technology or techniques into our supply chain.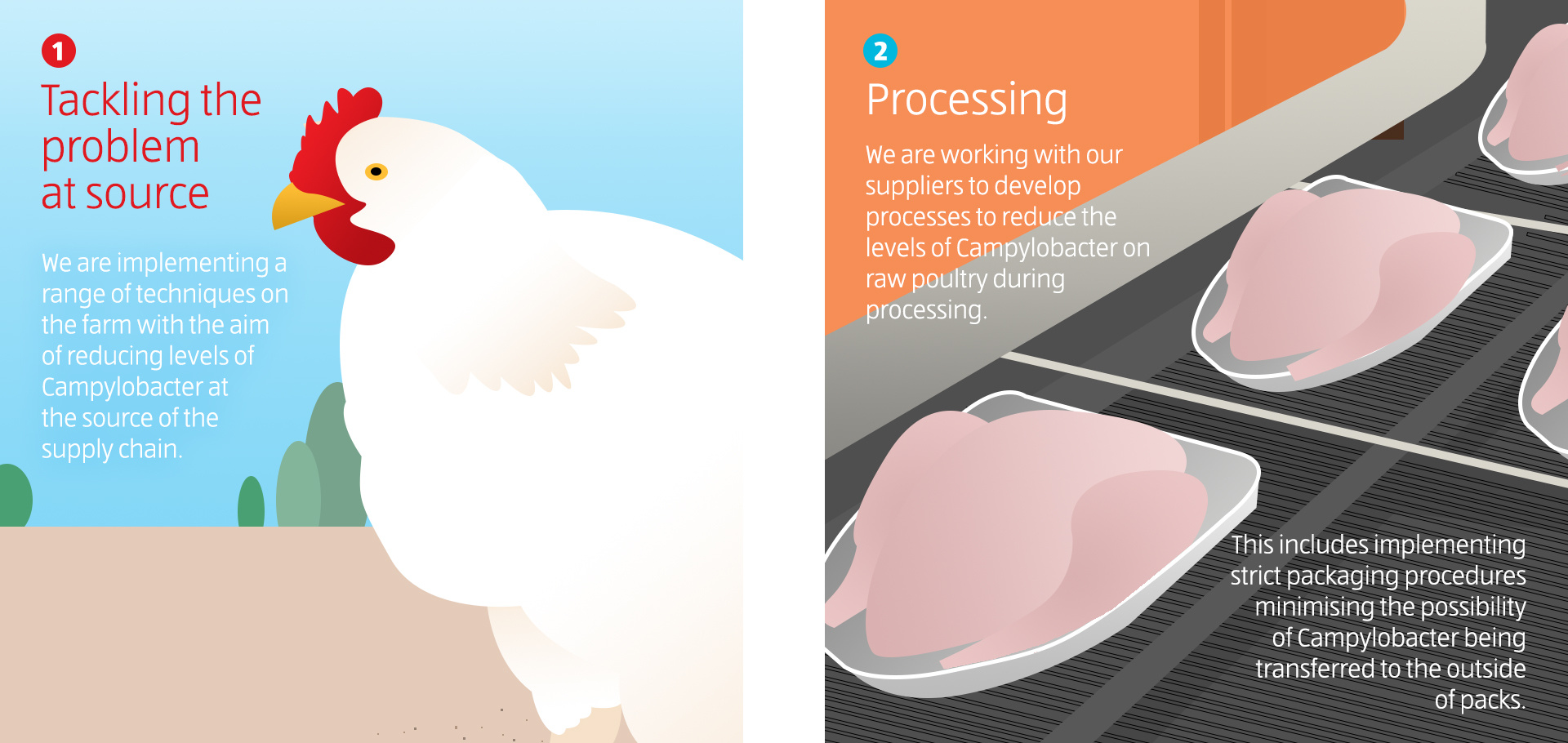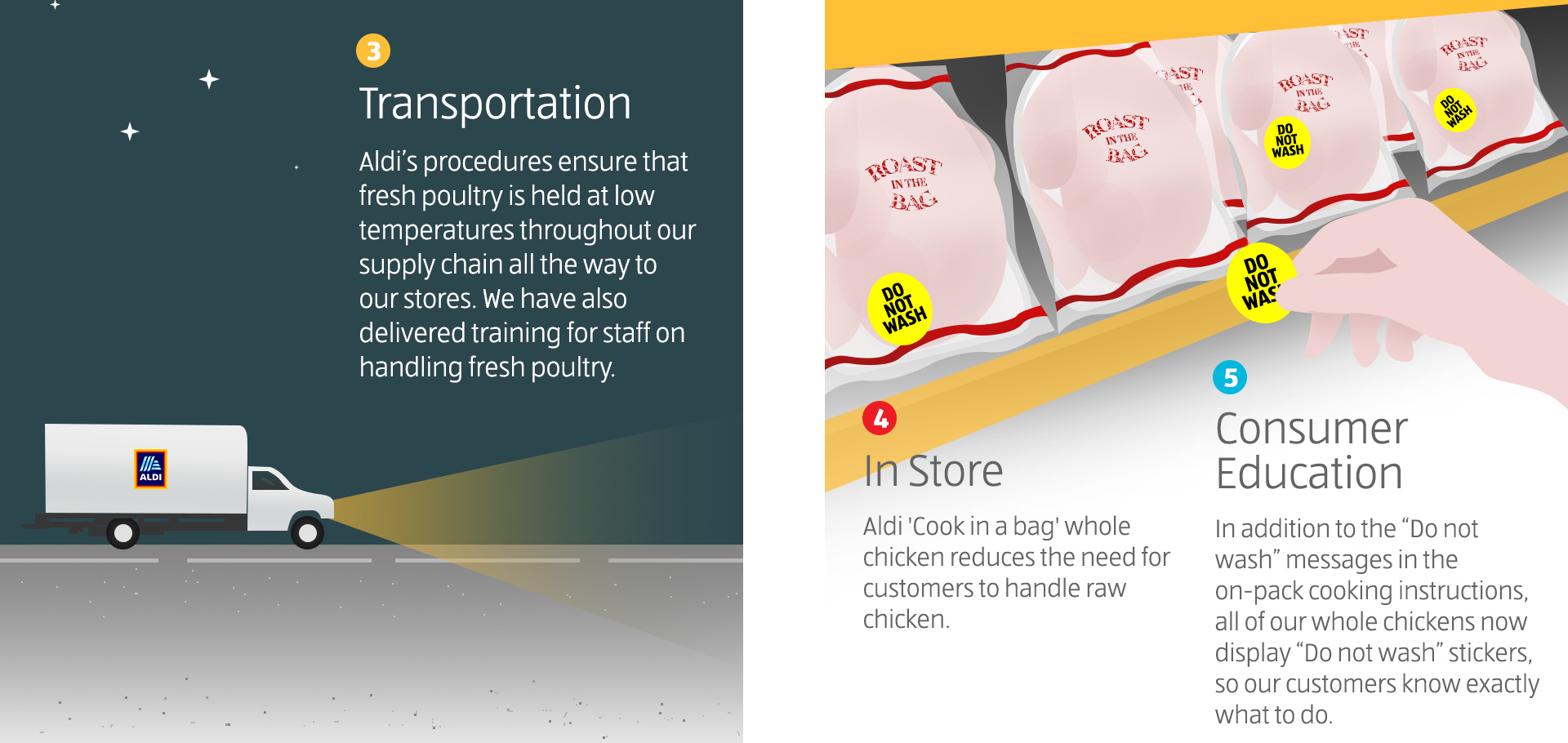 Top tips for prepping poultry.

Cover and chill raw chicken
When storing raw chicken, it's important to pop it at the bottom of the fridge. This will prevent any juices from dripping on to other food items, contaminating them with food poisoning bacteria such as Campylobacter.

Don't wash raw chicken
Washing raw chicken can actually increase your risk of food poisoning from Campylobacter. Splashes of water can spread the bacteria on to work surfaces, clothing, cooking equipment and even your hands! Cooking chicken thoroughly is enough to kill bacteria.

Wash used utensils
Thoroughly wash and clean all utensils, chopping boards and surfaces used to prepare raw chicken. After handling raw chicken, it's important to wash your hands thoroughly with soap and warm water, before touching other items. This helps stop the spread of Campylobacter by avoiding cross contamination.

Cook chicken thoroughly
It should be steaming hot all the way through. One simple test is to make sure that all juices run clear and that there is no pink meat in the thickest part.