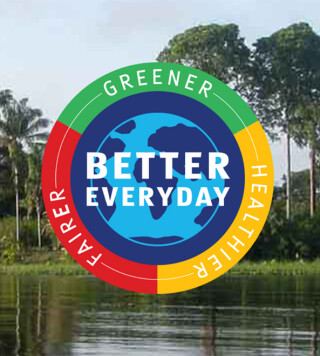 Aldi UK and Ireland have been Carbon Neutral since January 2019
This achievement has been made by continually working to reduce our carbon footprint through buying 100% renewable electricity, using greener refrigerant gases and purchasing carbon offsets for the emissions that we can't reduce completely just yet.
We have selected 4 fantastic carbon offsetting projects to support. All of these projects have a huge social benefit and are independently verified carbon reduction schemes.
Project One - Clean Oceans
Aldi are working in partnership with Plastic Bank to support the Clean Oceans project, which helps remove plastics from our oceans.
Impoverished people in Haiti, the Philippines and Indonesia collect plastic waste and exchange it at local Plastic Bank sites for money, food, drinking water or children's tuition. The plastic is then recycled to make new products.
Did you know?…
This project supports 14 of the UN's Sustainable Development Goals.
Project Two - Forest Protection
Aldi are proud to also be championing a Forest Protection project in Brazil, which supports the preservation of 3,000 hectares of rainforest from being deforested to create soy plantations. The project also secures income for the local people "Ribeirinhos" who would have otherwise lost their livelihoods.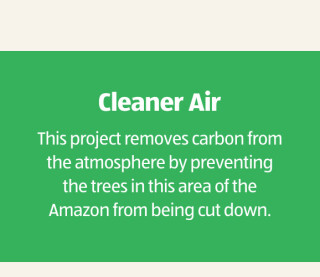 Project Three - Clean Cookstoves
Cooking with charcoal on open fires or inefficient stoves is one of the major reasons for the high deforestation rate in Ghana, and also the cause of serious health problems such as respiratory diseases, eye infections and premature deaths in the women and children exposed to them.
What we're doing
We're supporting a Clean Cookstoves project to reduce fuel consumption and smoke production. Through this, we can supply more efficient and cleaner cookstoves to families in Ghana and deliver environmental, economic and social benefits.
Project Four - Solar Energy
Renewable sources generate 20% of India's electricity: only 5% of this is from solar power. Aldi are supporting the Solar Energy project, which is helping to increase renewable energy generation.

The Solar Energy project involves setting up 100MW of solar power plant in Gutigolit village. The project activity generates clean and affordable electrical power for the Indian national grid.

This scheme also contributes to a sustainable development in the surrounding communities. The supported activities include distributing books, furniture and other infrastructure to schools.
Find out more about the projects we support to be carbon neutral here!