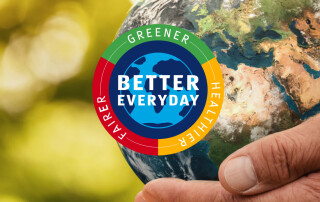 Climate protection
We are committed to the continuous reduction of our greenhouse gas emissions. Our international climate strategy focuses on the systematic reduction of our energy consumption, employing more environmentally friendly refrigerants, the use of renewable energy and modern logistics concepts.
The Aldi South Group aim to reduce our overall operational GHG emissions by 26% by the end of 2025 (against baseline year 2016).
The Aldi South Group are committed to encouraging our strategic suppliers, which are responsible for 75% of product related emissions, to work towards setting science-based emissions targets by the end of 2024.
Solar panels
We have solar panels on 400 of our UK stores and all 11 UK Regional Distribution Centres. That's a total of over 100,000 panels! We use the renewable energy they create to power our stores and Regional Distribution Centres. On average, our solar panels power around 10% of a store's electricity consumption each year.
Now that's #EverydayAmazing.
Green electricity
100% of the electricity we have purchased since 2015 has been generated by green, renewable energy sources, such as solar and wind power.
Refrigeration
Since the beginning of 2018, all of our new stores have environmentally friendly refrigeration to significantly reduce our carbon emissions from refrigerant gases. In addition to this, we're rolling out these refrigeration systems to some of our older stores as we replace end-of-life equipment.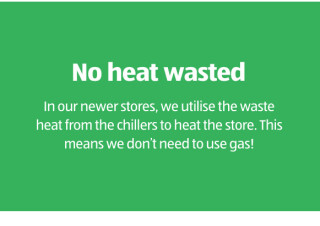 Here are some ways we are already working to reduce our fuel consumption:
Water
We are actively managing our water consumption across our estate to ensure that we are operating as sustainably as we can! Over the course of 2019, we switched to a national water retailer, which has given us a comprehensive oversight of our water consumption across our estate.
With the help of our specialist water consultants, we undertake site audits, benchmarking exercises, leak detections, repair inspections and take on-board efficiency recommendations to continuously improve our environmental impact with regards to water.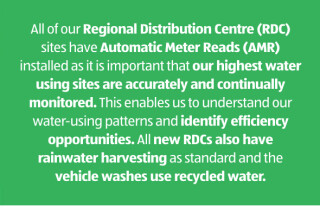 To reduce our water consumption further, we inform and encourage our colleagues to use water responsibly, reduce their water consumption if they can and to notify the relevant stakeholders as soon as possible when a leak is detected. This work is naturally leading to positive behavioural change across all colleagues within our business.