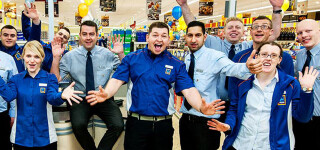 Listen and learn. It's obvious really, but it's really important not to forget to welcome our colleagues with open arms and ask them how you can improve.
This is why in 2019 we launched our biggest Engagement survey yet. 94% of colleagues took part and we achieved an impressive engagement score of 84%, way above the retail benchmark. We believe in creating a culture where colleagues feel valued and have pride in their work. It stands to reason that engaged colleagues are more productive so we work hard to create a culture of openness and transparency.
So having listened to all our colleagues' feedback, we're now focusing on key areas like training and personal development, ensuring all our colleagues know it's good to talk.
We're investing in training and recruitment more than ever! People are our business and we understand how important they are. To prove it we have an Academy at our Bolton Distribution Centre in Greater Manchester to coordinate the training and development of new and existing colleagues.
In 2018 we held an amazing 1100 external training courses, attended by over 10,700 colleagues. This includes on-the-job training and inductions to develop their professional, technical and interpersonal skills, as well as a new performance review process to ensure all colleagues get the right feedback and are able to openly discuss their personal development and career progression.
We've even launched new courses such as health and wellbeing, to make sure our colleagues are supported with the skills to do their job more effectively.
We're also dedicated to our Apprenticeship programme. Currently, we have 760 apprentices in the business. In 2018, we recruited 171 apprentices across Retail, Logistics and Maintenance, with over 100 graduating in 2018.