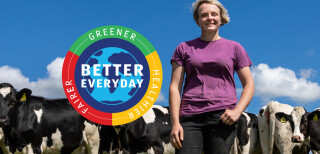 Animal Welfare
Animal welfare is an important part of being a responsible business and we are committed to the continuous improvement of animal welfare in our food and non-food products.
Aldi is ranked as a leader for animal welfare in the global benchmark. The Business Benchmark on Farm Animal Welfare (BBFAW) 2019 assessed over 150 global food companies across 24 countries and acknowledged our efforts for improving our approach to animal welfare by ranking us in the 2nd Tier. Aldi have our own animal welfare requirements which form part of the contractual agreement between Aldi and our suppliers.
Responsible use of antimicrobials
Antibiotics are used to treat, control and prevent disease in farm animals. Aldi believes that antibiotic use in animal medicine, when applied responsibly, promotes good animal welfare. We therefore support the need to protect antimicrobial medicines and reduce the threat of antibiotic resistance to human health.
That's why Aldi is part of the Food Industry Initiative on Antimicrobials (FIIA) which has the stated vision of 'Retailers, manufacturers, processors and food service companies coming together to promote and support responsible antibiotic use and action on antimicrobial resistance'. The intention of this initiative is to support and engage with existing industry groups working in this area, ensuring work is aligned and duplication of effort avoided.
FIIA has published three policies covering: Responsible Use of Antibiotics, Measurement of Antibiotic Data, and a Code of Conduct on Access to and Use of Industry Data. Aldi fully supports and subscribes to these policies as part of its approach to antibiotic stewardship. The policies and further information about FIIA can be found at www.fiia.co.uk.
Non-food products
Aldi also takes animal welfare seriously when it comes to our non-food products. Find out more about our Non-Food Animal Welfare policies here.