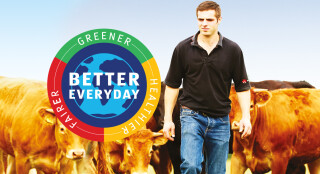 Responsible resources
The long-term success of our business depends on the raw materials of all our products being sourced in a sustainable way.
Great British farming
As part of Aldi's commitment to championing great British quality, many of our products are sourced from the UK. In fact, our entire core range of fresh meat, shell eggs and milk is from British, Red Tractor approved farms and we are the market leader in the amount of fresh produce we sell which is British. Find out more below.
Responsible sourcing policies
We work with our suppliers to minimise the resource intensity of our products and the negative environmental impacts of their production. We have policies in place which suppliers have to meet; find out more below.