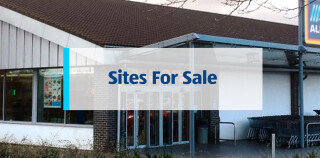 Various freehold and long leasehold opportunities as well as vacant premises are now available throughout England, Scotland and Wales. All these locations represent excellent property investment opportunities for a wide variety of uses including retail, residential or mixed use development.
Scotland
Tel: 01506 657030
Email: property.bag@aldi.co.uk
Inverurie,

Harlow Road

Planning Consent for 10,000 sqft of Retail

0.85 acre -Freehold - PART SALE

Peterhead,

Kirk Street

1.86 acres - Freehold

Peterhead,

Kirk Street

0.48 acres

Crieff

Fully services plot, with associated parking for the construction of an 8500ft² retail unit
North East England, North Yorkshire and Cumbria
Tel: 01325 359944
Tel: 01325 341016
Email: property.darnorth@aldi.co.uk
Middlesbrough,

Newport Road

887 sq m (9,547 sq ft) TO LET

Carlisle,

St Nicholas Bridge

1.6 acres (0.65 hectare) FREEHOLD FOR SALE
North England
Tel: 0161 655 3900
Email: property.bol@aldi.co.uk
South Yorkshire and Lincolnshire
Tel: 01709 882 110
Email: property.gol@aldi.co.uk
Derbyshire,

Mill Green Way, Clowne

2,000 sq ft, FOR SALE/TO LET
North West and North Wales
Tel: 0151 353 2220
Email: property.nes@aldi.co.uk
Central England
Tel: 01827 719709
Email: property.ath@aldi.co.uk
Longbridge,

1647 Bristol Road South,
Rednall

1.25 acre plot (0.55 hectare), FOR SALE

Birmingham,

Maypole

Shell of 22 no.apartments above supermarket premises,
LONG LEASEHOLD
South East
Tel: 01245 215009
Email: property.che@aldi.co.uk
South Wales and South West
Tel: 02921 324558
Email: property.crd@aldi.co.uk
Gwent,

Unit 1a, Blackwood Gate
Retail Park, Sir Howy
Enterprise Way. NP12 2FS

1,321sqm unit with shared parking
Download our guides
If you would like to find out more about Aldi, our property requirements, where we are looking for sites or how our stores benefit their local communities please download one of our guides.