Side of salmon cooked in sweet soy and garlic marinade, served with grilled veg and rice.
Aldi Cinnamon Teriyaki Salmon by Judy Joo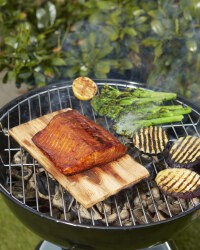 Recipe Information
Ingredients
Ingredients:
Boneless side of salmon (500g)
Marinade:
150ml soy sauce
½ cup (100g) white sugar
½ tbsp (5g) dark brown sugar
1 tsp (5g) sea salt
1 small wedge (30g) pineapple, peel removed, grated
3 good pinches (0.2g) cinnamon powder
3 cloves garlic, peeled and grated
1 tbsp (15g) ginger, peeled and grated
1/8 tsp (0.2g) ground black pepper
¼ cup (60ml) water
Chilli Garlic Ginger Oil:
80ml extra virgin olive oil
1 red chilli, roughly chopped
5 slices ginger
4 garlic cloves in skin, crushed
½ lemon, cut into 3 wedges
Sides:
5-8 stems tenderstem broccoli, trimmed
2 lemons, halved, grilled
1 aubergine, sliced, grilled
2 packs of Aldi rice (Special Whole Grain, Wild & Red Rice and Special Quinoa, Pumpkin & Sunflower Seeds Rice)
1 spring onion, thinly sliced on a bias
Marinade thickener:
1 tbsp cornflour
Method
Heat up the grill.
In a small cast iron pan tip in the soy sauce, white sugar, dark brown sugar, salt, pineapple, cinnamon, garlic, ginger, pepper with 60ml of water (1/4 cup). Whisk together well.
Place over direct heat and bring to a boil.
Move to indirect heat and allow to simmer for 4-5 minutes until the sugar is dissolved, and the sauce is slightly thickened. Pass the sauce through a sieve to remove any of the solids.
Allow the sauce to cool completely. Reserve about 2 tbsp in a small bowl and set aside.
Place the salmon side in a deep tray and pour the cooled sauce over the fish and allow to marinate for at least 1 hour and up to overnight.
Meanwhile, make the chilli oil. In a cast iron skillet, place in the oil, chilli, ginger, garlic, and lemon wedges.
Place over indirect heat and allow to infuse for 30 minutes, stirring occasionally. Remove from heat and place somewhere warm.
Brush the broccoli with the chilli oil and place on the grill. Grill until charred and marked, flipping as necessary and then remove from heat. Drizzle additional chilli oil over the broccoli and season with salt as desired to serve.
Lightly brush the aubergines with the reserved 2 tbsp of teriyaki sauce and then place the slices on the grill. Cook until charred and softened, about 1-2 minutes each side. Once cooked remove from heat.
Brush the sliced lemon halves with oil and place on the grill. Cook until marked and softened, about 4 minutes and remove from heat.
Once the salmon is done marinating, take the fish, shaking off any excess sauce (reserving the sauce) and place in the centre of a large square of heavy-duty foil.
Wrap the fish completely and place on the grill over indirect heat. Allow to cook for about 8-9 minutes, flip as necessary or until desired doneness.
Another option is to cook the fish on a cedar plank (or any wood works) – just remember to soak the wood for at least three hours before it goes on the BBQ, ideally overnight.
Meanwhile, thicken the excess marinade to make a sauce. Start by tipping the reserved sauce into a cast iron pan; place on the grill and whisk in 60ml of water (about ¼ cup).
In a small bowl, using a fork, dissolve the corn flour in 1 tbsp of water. Tip this corn flour mixture into the sauce and whisk in well until fully incorporated. Allow to simmer for about 4-5 minutes. Once thickened, remove from heat and keep in a warm place.
Make the rice according to the package directions, or on the grill in a cast iron pot.
Remove the salmon from the foil (or plank) and place on a plate. Serve the rice, broccoli and aubergine, and lemon alongside.