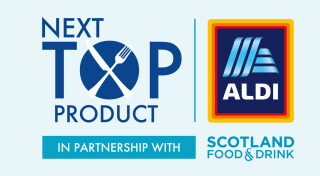 Aldi's Next Top Product
At Aldi, we're proud to work with over 90 local suppliers and stock more than 450 Scottish products. Aldi stores in Scotland boast a range that is at least 30% Scottish.
Are you looking to grow your Scottish food or drink business? Do you want to partner with Aldi to be a supplier to our 91 Scottish stores?
If so, Aldi's Next Top Product competition could put your product in front of every Aldi Scotland customer. So why wait? Apply now!
Working in partnership with Scotland Food and Drink, Aldi's Next Top Product competition is designed to help Scottish suppliers gain brand exposure as an in-store Specialbuy, with the potential to enjoy a longer term listing if successful.
ENTRY DETAILS
To apply, simply press the button above and complete the online application form.
CLOSING DATE
Entries close on 29 March 2020.
The winner will be publicly announced at the Royal Highland Show in June. The winning product will be on sale during Scotland Food and Drink Fortnight in September.
For FAQs please click here and for full Terms and Conditions, please click here.
Meet 2 of our previous winners…
These delicious treats have both won Aldi's Next Top Product and continue to be sold in our Scottish stores, with Argo's shortbread winning Best Own Label Product at the 2017 Scottish Food and Drink Excellence Awards and Bakery Product of the Year at the Scottish Food and Drink Awards in 2018.