A classic vegetarian dish for Diwali celebrations.
Aloo Matar Masala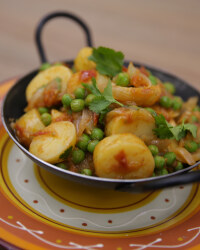 Recipe Information
Ingredients
500g new potatoes
1 tbsp oil
1 tbsp ground cumin
1 medium onion
1 inch ginger
4 cloves garlic
2 large tomatoes
1 tsp ground turmeric
1 tsp ground chilli
2 cups frozen peas
1 tbsp fresh coriander, to serve
Salt to taste
Method
Wash and dice the potatoes, chop the tomatoes and onion roughly.
Heat the oil in a wok, add the cumin, onions and garlic. Once they begin to sizzle add the tomatoes, turmeric and chilli.
Stir for two minutes until the tomatoes soften. Mix in the potatoes, stirring well to make sure they are evenly covered with the spices.
Pour in half a cup of water, lower the heat to medium, cover and cook for 15-20 minutes stirring occasionally.
Add the frozen peas, cover and cook for a further 2 minutes.
Add salt to taste.
Sprinkle fresh coriander to serve with a flatbread.