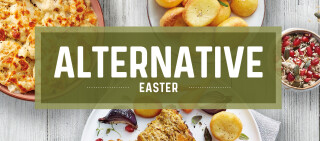 An alternative Easter for everyone
We believe Easter is for everyone and that's why we offer delicious alternative meals and recipes for all different diets and food choices. As a result, our vegan Easter, vegetarian Easter and gluten free Easter foods are loved by all, so we understand why you're searching for them so early. But Easter isn't until 12th April 2020 so you'll have to wait a bit longer. You can learn more about our alternative Easter meals here in the mean time.
Food intolerances
At Aldi we cater for every taste and every diet with our great value ranges and recipe ideas. Learn more about the different food varieties you can find in your local store here.
Alternative recipes
We have delicious food ideas for vegans, vegetarians and everyone else to enjoy throughout the year. You'll find something for every meal and occasion.