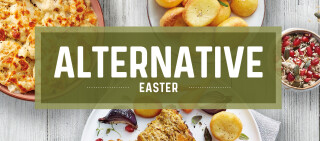 Fresh ideas for an alternative Easter with Aldi
Find amazing alternatives to your traditional Easter meals. Our wonderful range of homemade vegan ideas and tasty vegetarian twists are bursting with exciting flavours and fresh inspiration for you to share with family and friends. We even have vegan wine! Start planning your new menu today.
Food intolerances
At Aldi we cater for every taste and every diet with our great value ranges and recipe ideas. Learn more about the different food varieties you can find in your local store here.
Share your alternative Easter recipes
Easter is a time to come together and enjoy amazing food. Share your brilliant alternative meal ideas with us and we'll post our favourites across social media over the weekend.
Amazing vegan wines
Don't let your diet stop you from enjoying an amazing bottle of wine this Easter. We have a wide range of vegan wines to choose from and they all pair perfectly with Easter food and family parties.
Alternative Easter recipes
Fill your 4-day weekend with delicious food ideas for vegans, vegetarians and everyone else to enjoy. Our amazing recipes cover every meal, course and occasion from Friday to Monday.