A real family favourite recipe provided by Andrew McCornick, President of NFU Scotland.
Andrew McCornick's Beef Lasagne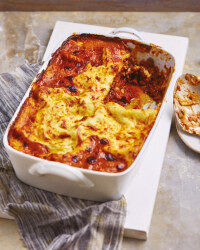 Recipe Information
Ingredients
500g Scotch Beef PGI Mince
20ml Vegetable Oil
1 x large Onion
1 x Courgette
1 x Red Pepper
4 x Cloves of Garlic
500g carton Passata
400g tin Chunky Chopped Tomatoes
2 tsp Mixed Dried Herbs
1 x Beef Stock Cube Sea Salt and Black Pepper
8 x Lasagne Pasta Sheets
75g Scottish Salted Butter
75g Plain Flour
800ml Scottish Milk
125g Scottish Cheddar, grated
Method
Pre-heat the oven to 200°C/400°F/Gas Mark 6.
Peel and finely chop the onion, then peel and mince the garlic.
Put the oil in a large saucepan and add the onion and the beef, cooking until the meat is browned. Add the garlic, passata, tomatoes and crumbled stock cube.
Now chop the red pepper and courgette into small pieces – discarding any white pith and seeds from the pepper – and add, along with the herbs, to the saucepan. Season, with salt and black pepper, cover and simmer for 20 minutes.
Meanwhile, melt the butter in a saucepan. Add the flour and cook for a couple of minutes. Add the milk slowly and bring to the boil, whisking as you go. When thickened, season with salt and pepper and add 75g of the cheese.
Finally, put half the meat mixture into the baking dish, then top with 4 lasagne sheets, making sure they don't overlap. Top this with half the cheese sauce, repeat and sprinkle with the remaining cheese.
Bake in the oven for 45 minutes.