BBQ baked Tarte Tatin with butter-fried apple and peach halves. Served with ice cream.
Apple & Pear Tarte Tatin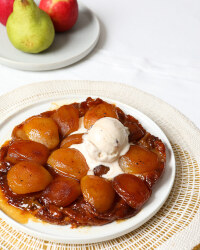 Recipe Information
Ingredients
2 Cox Apples (cored and cut in half)
2 Pears (cored and cut in half)
50g Caster sugar
50g Butter
1 Vanilla extract
Puff pastry, cut into a 28cm disc
Salted caramel ice cream to serve
Method
Add butter to a non-stick pan and melt slowly. Once almost melted, sprinkle the caster sugar over the butter and start to heat until it almost reaches a caramel consistency. Add the apples and pears on top, with the core side facing up. Add a splash of vanilla extract and remove from heat.
Tuck pastry around the apples and slightly cup the fruit with it.
Add to BBQ and bake at 200° for 20 minutes with the lid on.
Remove from heat, flip out the cast iron pan and serve with ice cream.