Kick off the day with this deliciously healthy breakfast idea.
Apple Bran Muffins with Banana Smoothie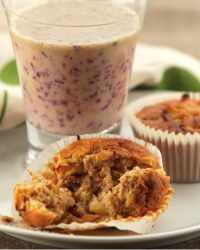 Recipe Information
Ingredients
50g Oat Bran Flakes
160g Self Raising Flour
50g Caster Sugar
½ tsp Ground Cinnamon
1 tsp Baking Powder
230ml Pure Apple Juice
1 x Medium Egg
50g Creamy Butter Unsalted (Melted)
2 x Fun Size Apples, cored and finely chopped
For the smoothie:
200g Blueberries
1 x organic Banana, peeled and chopped
8 tbsp Natural Yogurt
3 tbsp Grandessa Pure Clear Honey
200ml Pure Orange Juice
Find your ingredients online on Click & Collect or find your nearest store using our Store Finder.
Method
Pre-heat the oven 190°C/375°F/Gas Mark 5.
To make the muffins:
In a mixing bowl combine the flour, bran flakes, sugar, cinnamon and baking powder.
Whisk the egg with the apple juice and the melted butter.
Mix this into the flour mixture slowly to avoid going lumpy, then add the chopped apples.
Spoon into muffin cases and bake for 25 minutes.
To make the smoothie:
In a liquidiser or food processor, add all the ingredients and blend to a smooth drink.
Serve with the apple bran muffins.