A simple aquafaba pavlova recipe to make 6 tasty vegan treats.
Aquafaba Pavlovas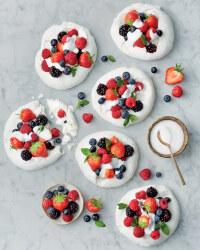 Recipe Information
Ingredients
400g tin Chickpeas
100g Caster Sugar
¼ tsp Cream of Tartar
400g tin Coconut Milk – place in the fridge overnight if possible
15g Icing Sugar
½ tsp Vanilla Essence
300g fresh Berries or thawed Frozen Berries
Method
Pre-heat the oven to 110°C/Gas Mark 4.
Drain the water from the chickpeas (aquafaba), put in a clean bowl and add the cream of tartar – use the chickpeas for another recipe.
Using an electric beater, whisk the aquafaba until it starts to get frothy and a little thicker. Very slowly, add in the caster sugar, whisking as you add. This will take longer to do than a normal meringue – about 10 minutes.
Line a baking tray with some non-stick baking parchment.
Divide the mixture into 6 rounds on the tray.
Cook in the oven for 150 minutes – until slightly coloured and crisp.
Carefully open the coconut milk – don't shake the tin – and take out the thick cream, discarding the liquid (or save for another recipe).
In a chilled bowl, whisk the cream with the icing sugar and the vanilla essence – it will go like a thick single cream.
Serve the meringues with the berries and the coconut cream to spoon over.