This simple yet delicious tuna dish will give you a taste of the Orient in just 30 minutes.
Asian Tuna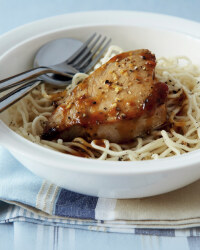 Recipe Information
Ingredients
400g pack The Fishmonger Tuna Steaks (defrosted)
120g Pouch Asia Oyster and Spring Onion Sauce
1g Stonemill Ground Ginger
120g Pack Asia Chinese Medium Noodles
Find your ingredients online on Click & Collect or find your nearest store using our Store Finder.
Method
Pre-heat the oven to 200°C/400°F/ Gas Mark 6.
Place the thawed tuna steaks into a baking dish in one layer.
Pour over the sauce and sprinkle over the ginger.
Bake in the oven for 30 minutes.
Meanwhile, cook the noodles according to the pack instructions.
Serve the tuna on a bed of the noodles.