Super-healthy asparagus tips, covered in a deliciously tangy goat's cheese and parsley sauce and topped with chopped walnuts.
Asparagus with Goat's Cheese Sauce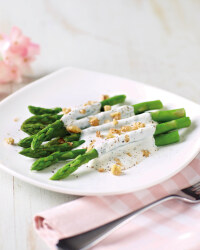 Recipe Information
Ingredients
2 x 100g Specially Selected Asparagus tips
1 x 150g The Cheese Emporium Goats Cheese
1 x heaped teaspoon Stonemills dried parsley
150ml Semi skimmed milk
20g The Pantry walnut pieces
Salt and black pepper
Method
Put the milk and the dried parsley in a small saucepan, crumble the goat's cheese over the milk, season with a little salt and black pepper, heat the mixture, whisking as you do to melt the cheese - put to one side.
Chop the walnuts into small pieces, and then put them in a small frying pan - without any oil, fry until they start to brown slightly.
Cook the asparagus in some boiling salted water for 5 mins.
Meanwhile heat through the goat's cheese sauce.
Drain the asparagus, divide between 4 plates, pour over the goat's cheese sauce, and sprinkle over the chopped walnuts.