Tasty vegetable sushi rolls made with houmous, aubergine, carrots and peppers.
Aubergine Houmous Sushi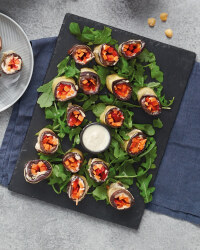 Recipe Information
Ingredients
1 x Aubergine
1 x Red Pointed Pepper
1 x large Carrot
150g Caramelised Onion Houmous
80ml Rapeseed Oil
25g Horseradish Sauce
8ml Soy Sauce
5ml Milk
30g Rocket Leaves
Method
Pre-heat the oven to 180°C/Gas Mark 4.
Put the aubergine lengthways on a chopping board. Thinly slice off the 2 ends, then cut into 8 thin slices.
Put these onto a baking sheet and drizzle over the oil. Bake in the oven for 15 minutes until cooked, but not crispy. Then, allow to cool.
Meanwhile, peel the carrot and cut into thin baton strips. Cut the pepper into thin baton strips, discarding any white pith and seeds.
Lay a cooled aubergine slice on a chopping board, spread over some houmous, put 4 strips of carrot and pepper on top, then roll up into a sushi shape.
Repet this process for the remaining 7 slices. Put onto a small board and freeze for 20 minutes.
Meanwhile, mix the horseradish, soy sauce and milk together.
Take the rolls out of the freezer and cut in half to make 16 pieces. Serve on the rocket leaves and drizzle with the horseradish sauce.