Easy and delicious chopped salad filled with fresh seasonal fruits and vegetables.
Autumn Salad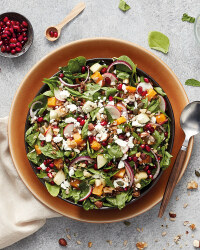 Recipe Information
Ingredients
1 x Butternut Squash
2 x Green Apples
1 x medium Red Onion
125g Radish
1 x 80g pack Pomegranate Seeds
1 x Lemon, juiced
125g Baby Spinach Leaves
200g Feta Cheese
8g Flat Leaf Parsley
1 x 250g sachet Tomato and Olive Quinoa
70g Mixed Nuts
30g Seed Mix
50ml Rapeseed Oil
Method
Pre-heat the oven to 200°C/Gas Mark 6.
Peel the squash, discard the seeds and chop finely. Roast in a tray with the oil for 20 minutes.
Meanwhile, chop the radish, then peel and chop the red onion. Put them in a large salad bowl, along with the tomato and olive quinoa - there's no need to cook this.
Shred the spinach, chop the parsley and add to the salad.
Chop the nuts and add, along with the seeds.
Chop the apples, discard the core and the seeds, toss the apple flesh with the lemon juice and add to the salad.
Crumble the feta and add, along with the pomegranate seeds.
Once the squash is cooked, add to the salad, along with any oil in the tray, toss well and serve.