Bruschetta with creamy avocado spread, topped with sautéed mushrooms and diced tomatoes.
Avocado, Mushroom and Tomato Bruschetta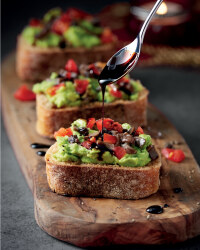 Recipe Information
Ingredients
1 Specially Selected Sundried Tomato Ciabatta
3 Avocados
50g Soft Cheese with Garlic and Herbs
5ml Lemon Juice
100g Chestnut Mushrooms
100g Vine Tomatoes
25g Salted Butter
Drizzle of Balsamic Vinegar
Method
Thinly slice the ends off the ciabatta and discard.
Slice the loaf into 12 slices, then toast or griddle them.
Cut the avocados in half and scoop out the flesh, discarding the stones.
Mash the flesh, along with the soft cheese and the lemon juice.
Wipe the mushrooms and dice them and the tomatoes finely.
Divide the avocado mixture between the 12 slices – 3 slices per plate.
Sauté the diced mushrooms in the butter for a couple of minutes.
Scatter the mushrooms and the tomatoes over the bruschetta.
Drizzle the balsamic vinegar over the bruschetta and serve.