Delicious bites of bacon, pesto and halloumi. They'll all be asking for more.
Bacon, Pesto & Halloumi Bites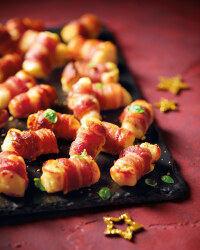 Recipe Information
Ingredients
12 Rashers Smoked Streaky Bacon
280g Halloumi
3 tbsp Pesto
3 tbsp Chopped Basil Leaves
1 tbsp Olive Oil
Honey, to drizzle
Method
Pre-heat the oven to 220°C/Fan 200°C/Gas Mark 7.
Cut each rasher of bacon in half to create 24 short, wide pieces.
Chop the halloumi into 24 cubes.
Top each cube with a little pesto and wrap with a piece of bacon.
Place on a baking tray, seam side down.
Drizzle with the olive oil and chopped basil leaves before cooking in the oven for 20 minutes.
Remove from the oven and drizzle with a little honey.
Serve immediately.