Tangy tomatoes, crispy bacon, mushroom and cheese combine for this delicious lunch idea.
Bacon, Tomato & Mushroom Quiche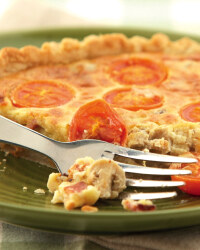 Recipe Information
Ingredients
1 x 30cm tart tin
For the pastry
240g Plain Flour, sieved
60g Creamy Butter, unsalted & cubed
60g Lard, cubed
Cold Water
For the filling
2 tbsp Olive Oil
4 x Medium Eggs
250g Mature White Cheddar Cheese, grated
250g Smoked Streaky Bacon Rashers, chopped
150ml Double Cream
2 x 300g tin Sliced Mushrooms, drained
1 x 250g pack Cherry Tomatoes, cut into halves
Find your ingredients online on Click & Collect or find your nearest store using our Store Finder.
Method
In a large bowl add the flour, butter and lard.
Rub the flour, butter and lard together until the mixture resembles fine breadcrumbs.
Add the water slowly and mix until you have a firm dough.
Rest the pastry in the fridge for 30 minutes.
Pre-heat the oven to 200°C/400°F/Gas Mark 6.
Roll out the pastry on a floured surface, line the tart tin with the pastry.
Prick the base with a fork and press a sheet of tinfoil around the pastry.
Bake for 10 minutes, take off the tinfoil and bake for another 5 minutes.
For the filling
In a large frying pan add the olive oil and fry the bacon until crisp.
Crack the eggs into a bowl and lightly beat together with a fork.
Add the cheese, cream, mushrooms and bacon to the eggs and season with salt and pepper.
Pour into the baked pastry shell, top with the cherry tomatoes and bake in the oven for 45 minutes until set and golden brown.