Simple baked avocado breakfast with eggs and chives.
Baked Avocado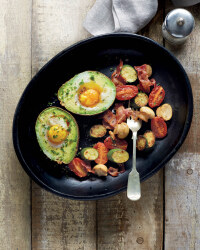 Recipe Information
Ingredients
1 x Avocado
2 x Small Eggs
Sprinkle of Chives
Optional - Slice of Bacon or Salmon
Method
Preheat the grill and line a baking tray with tin foil.
Carefully slice the avocado in half and scoop out the stone.
Next, crack 1 small egg into the middle, replacing the stone and sprinkle chives over.
If you prefer add a sprinkling of chopped smoked salmon or bacon.
Sprinkle chives and season to taste.
Place on the baking tray and place in the grill for 5-6 minutes until the egg looks cooked.