Succulent beef burgers topped with a delicious cheese sauce and served with Chantenay carrots and fresh cauliflower.
Baked Beef Burgers with Creamy Cheese Sauce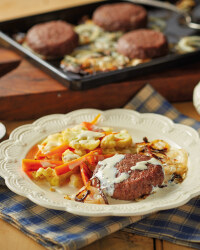 Recipe Information
Ingredients
1 x 4 pack Specially Selected Scotch Beef Quarter Pounders
2 Onions
350g Chantenay Carrots
1 Cauliflower
1 Quixo Beef Stock Cube
100ml boiling Water
1 x 200g pack Soft Cheese with Garlic and Herbs
Flat tsp Dijon Mustard
40ml Solesta Olive Oil
25g Salted Butter
1 tsp Stonemill's Paprika
Sea Salt and Black Pepper
Find your ingredients online on Click & Collect or find your nearest store using our Store Finder.
Method
Pre-heat the oven to 200°C/400°F/Gas Mark 6.
Peel and thinly slice the onions and scatter over the bottom of a large roasting tin.
Drizzle over 20ml of oil, sprinkle over the paprika and season with some salt and black pepper.
Push in the 4 beef burgers around the onions and cook in the oven for 20 minutes.
Meanwhile, discard the green leaves from the cauliflower and thinly slice - some of the florets will fall apart which is fine.
Wipe and trim the carrots then cut into quarters.
Put the cauliflower and carrots in a large bowl then pour over some boiling water and leave for 5 minutes then drain well.
Heat the remaining oil and butter in a large frying pan or wok.
Sauté the vegetables on a high heat for about 7-8 minutes until just tender.
Dissolve the stock in the boiling water in a small saucepan.
Add the soft cheese and mustard - whisk and heat through, season with some black pepper.
Serve the burgers with onions and the vegetables alongside the sauce.