Baked Braeburn Apples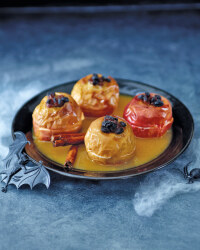 Recipe Information
Ingredients
4 braeburn apples
60g sweetvine sultanas
15g the pantry caster sugar
250ml Del Rivo orange juice with bits
1 tsp Stonemill ground ginger
Method
1. With an apple corer, remove the core from the apple.
2. Mix the sultanas with a tablespoon of the orange juice and ground ginger.
3. Push the sultanas in the holes in each apple.
4. Place on a small baking dish.
5. Pour over the orange juice.
6. Bake in the oven for 20-25 minutes.
7. Serve hot, great with Specially Selected Clotted Cream.