Baked Omelette Muffins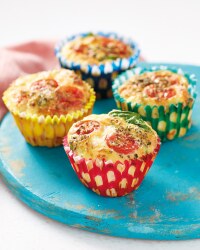 Recipe Information
Ingredients
8 Medium Free Range Eggs
2 Spring Onions, finely sliced
6 Piccolo Cherry Tomatoes, halved
1 Red Pepper, diced
Handful of Washed Baby Spinach
50g Extra Mature Cheddar Cheese, grated
1 tsp Oregano
Salt
Pepper
Method
Pre-heat the oven to 180°C.
In a mixing bowl, crack the eggs and lightly mix until combined, season with salt and pepper.
Add the sliced spring onion, diced red pepper, baby spinach and half of the cheese.
Pour the mixture into a lightly greased muffin tray (6 slot), roughly two-thirds of the way up.
Top each one with two cherry tomato halves, the remaining cheese and a sprinkle of oregano.
Bake for 15-20 minutes or until puffed up and golden.
Best enjoyed straight from the oven.