Baked Penne Cheese with Tomatoes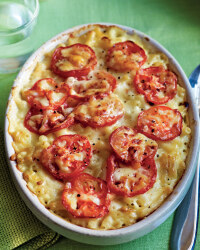 Recipe Information
Ingredients
300g Penne Pasta
50g Light Sunflower Spread
1 Small Onion, finely chopped
50g Plain Flour
600ml Semi Skimmed Milk
100g Lighter Mature Cheese, grated
1 tsp Premium Mustard – English
1 pinch Ground Black Pepper
2 Tomatoes, sliced
Method
Pre-heat the oven to 190°/Fan 170°C/Gas Mark 5.
Cook the penne in a large saucepan of boiling water for 8-10 minutes, or according to the instructions on the packet, until tender.
Meanwhile, melt the low-fat spread in a large saucepan and cook the onion for 3-4 minutes until softened, but not brown. Remove from the heat and stir in the flour. Return to the heat and cook gently for about 1 minute, stirring, until the mixture has a texture like sand.
Remove from the heat and add the milk a little at a time, stirring well to mix together. Then return to the heat, stirring all the time, until the sauce is thick and smooth. At this point, remove from the heat and add about 2/3 of the cheese and the mustard. Season with pepper.
Drain the cooked pasta well and return it to the saucepan. Stir in the hot cheese sauce. Tip the mixture into a baking dish which can hold about 1.2 litres, or use individual serving dishes. Top with the sliced tomatoes and sprinkle the leftover cheese on top. Bake for 15-20 minutes, until piping hot, then serve.