This delightfully warming rustic sausage dish is a great way to inject some Mediterranean flavour into teatime.
Baked Spiced Sausages with Vegetable Risotto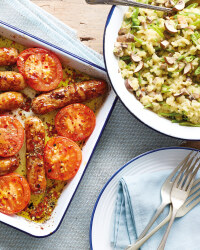 Recipe Information
Ingredients
1 454g (8) pack Butchers Select reduced fat Sausages
4 salad tomatoes
100g mangetout
140g Chestnut mushrooms
½ tsp Stonemills chilli flakes
½ tsp Stonemills garlic granules
1 teaspoon Stonemills dried basil
40ml Specially Selected olive oil
Black pepper
2 200g Cucina Risotto with vegetables and chicken
Find your ingredients online on Click & Collect or find your nearest store using our Store Finder.
Method
Preheat the oven to 200°C/400°F/Gas 6.
Put the sausages into a metal baking dish, with a fork prick the skins on each sausage.
Cut the tomatoes in half and put these around the sausages.
Sprinkle over the chilli flakes, basil and garlic granules, season with some black pepper.
Drizzle over the olive oil and bake in the oven for 30 mins.
Meanwhile, to make the risotto
Wipe and finely chop the mushrooms.
Put the contents of the two packs of risotto in a large pan and add the mushrooms - cook as per directions on the pack.
Thinly slice the mangetout and stir into the risotto - leave this to simmer for a few minutes.
Serve the sausages and tomatoes on a bed of risotto.