Delicious, rustic and irresistibly fruity, this banana and walnut tea loaf recipe is sure to brighten up your Sunday.
Banana & Walnut Tea Loaf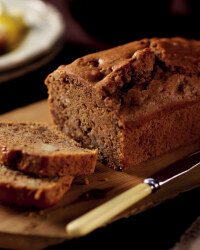 Recipe Information
Ingredients
3 x Ripe Bananas
225g Self Raising Flour
100g Salted Butter, softened
80g Chopped Walnuts
1 x Large Egg
145g Demerara Sugar
80ml Strong Hot Tea
2 tsp Baking Powder
1 tsp Ground Cinnamon
1lb Loaf Tin
Find your ingredients online on Click & Collect or find your nearest store using our Store Finder.
Method
Pre-heat the oven to 180°C/Gas Mark 4.
Line the bottom of the loaf tin with some non-stick baking parchment and grease the sides of the tin.
Put the softened butter and the sugar into a large bowl with the hot tea and whisk well.
Mash the bananas and add to the mix.
Crack the egg into another bowl, whisk well and then add to the mix.
Sift in the flour and baking powder and mix well.
Add the chopped walnuts and cinnamon and mix well.
Pour the mix into the cake tin and bake in the oven for 55 minutes. Test with a wooden skewer – if it comes out clean the cake is done.