Delicious, rustic and irresistibly fruity, this banana and walnut tea loaf recipe is sure to brighten up your Sunday.
Banana & Walnut Tea Loaf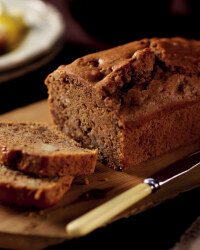 Recipe Information
Ingredients
3 x Fairtrade bananas
120g x Brown sugar
2 x Fairtrade tea bags
1 x Eggs
75g Walnut pieces
225g Self-raising flour
1 tsp Cinnamon 50g x Butter
Method
Pre-heat the oven to 160ºC/325ºF/Gas Mark 3.
Grease a 1lb loaf tin.
Boil the kettle and brew 225ml boiling water with the two tea bags.
Meanwhile cream the butter and sugar together.
Slice the bananas into 1cm slices and crush the walnuts in small pieces.
Add the egg to the butter and sugar mix and mix in well.
Add the flour cinnamon and tea to the bowl and mix well into a batter.
Add the fruit and nuts and transfer to the loaf tin.
Bake in the oven 45-55 minutes until a skewer comes out clean.