Try this different take on a bolognese, made with tasty bangers!
Banger Bolognese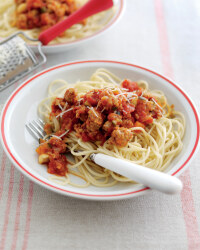 Recipe Information
Ingredients
8 Ultimate British Pork Sausages
15ml (1 tbsp) Vegetable Oil
1 Onion, roughly chopped
1 Clove Garlic, crushed
1 Carrot, peeled and cut into small cubes
1 Courgette, diced, 50g (2oz)
200g Button Mushrooms, quartered
1 (approx. 400g) can chopped Tomatoes
2 x 15g (2 tbsp) Tomato Purée
500g Spaghetti to serve
Parmesan Cheese to serve
Method
Heat oil in a large pan, add onion and garlic. Lightly cook without browning.
Take the sausages and slit the skins of each, remove the sausagemeat.
Lightly break the sausage into small pieces and add to the pan.
Brown sausagemeat until it changes colour.
Add the carrot, courgette and mushrooms, stir well.
Add the tomatoes and purée. Stir well and place lid on pan, cook for 15-20 minutes.
Meanwhile cook spaghetti as per packet instructions.
Pile spaghetti into pasta dishes, top with sausage bolognese and serve with parmesan shavings.