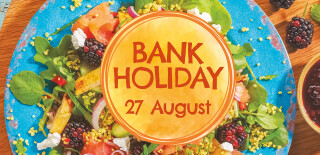 Go big for the August Bank Holiday
27th August is the last bank holiday of the year, so let's make it amazing. Wheel out the barbecue and enjoy platefuls of tasty meat and fresh veg along with some refreshing summer drinks. But before the guests arrive, take some time to touch up your garden with our Garden Shop Specialbuys.
Serve up a summer menu
This August Bank Holiday, you'll be able to enjoy a feast of fantastic food ideas with the help of our easy-to-follow Taste Kitchen videos while also crafting the perfect cocktail menu with our delicious recipes.
Get into the summer spirits
Sit back and enjoy the August Bank Holiday with a glass of something special. Our amazing collection of wines and spirits is fully stocked with everything you need.
Sizzling Bank Holiday recipes
Everyone has their favourite BBQ food, but why not try putting a fresh twist on traditional dishes with our clever recipes? Check out these below and discover more for your cookbook.
Bank Holiday BBQ tips
Make your Bank Holiday amazing with our wide range of helpful hints and tips on everything from barbecues to gardening.