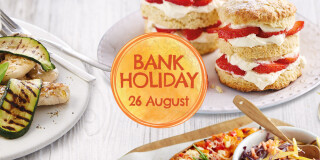 We're big on Bank Holiday at Aldi
Everyone's looking forward to the Bank Holiday on 26 August, and we don't blame them! With great value garden tools in our Garden Shop and a feast of family recipes to inspire, there's plenty of reasons to get excited! Let's make it amazing.
Amazing Bank Holiday ideas
Pull out all the stops this August Bank Holiday with a weekend filled with food, friends and family! We've got great ideas for the grill, light lunch inspirations and all your favourite alcohol! Pick your favourites today.
Put a zing into your summer party
The bank holiday is a perfect time to try exciting new cocktails. Give our fresh recipes a go and discover more great summer combinations in our collection.