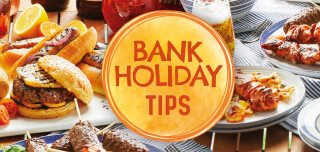 How to make the bank holiday amazing
Get all the expert tips you need to make sure your bank holiday BBQ goes off without a hitch. We've got great advice for preparing, cooking and actually enjoying your BBQ, with tasty recipes and inspirations to try too. Let's make it amazing.
Self-serve cocktails
Before your guests arrive, fill a jug with your favourite cocktail or mocktail mix and let them help themselves. That's one less host duty to worry about.
Take a look at our bank holiday cookbook
Explore our fantastic collection of seasonal recipes to make the most of spring's amazing flavours. You'll find frozen treats, fresh seafood salads, and tasty bites to get things started.