Rich texture and a tangy banana and sweet toffee flavour. Perfect for sharing.
Banoffee Blondies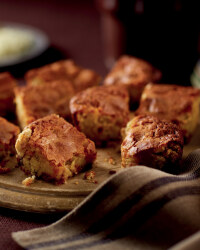 Recipe Information
Ingredients
150g x Salted butter
200g x Everyday Essentials white chocolate
200g x Caster sugar
3 x Eggs
200g x Self-raising flour
2 x Fairtrade bananas
100g x Fairtrade milk chocolate
Find your ingredients online on Click & Collect or find your nearest store using our Store Finder.
Method
Preheat the oven to 180°C/350°F/Gas Mark 4.
Grease a 25cm square tin.
Melt the white chocolate and butter together in a bowl over a pan of simmering water.
Stir in the sugar and add the eggs 1 at a time.
Chop the bananas up into 1cm thick half-moons and break the chocolate up into small chunks - your choice on size.
Add the flour and mix to a batter, then stir in the bananas and chocolate.
Pour into the greased tin and bake in the oven for 20-22 minutes for a gooey blondie or 22-25 minutes for a more cakey blondie.