Two amazing layers of whipped cream, banana, custard, biscuits and toffee sauce.
Banoffee Pudding Lasagne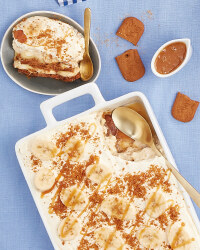 Recipe Information
Ingredients
500ml Double Cream
300g Ready-Made Custard
240g Caramelised Biscuits
90g Toffee Flavoured Dessert Sauce
1 Banana, mashed
3 Bananas, sliced lengthways
Dish approx. 28 x 18cm
Method
Begin by whisking the cream in a bowl until whipped and firm.
In another bowl, add the mashed banana to the custard and stir until combined.
Fold half of the whipped cream into the custard mixture and reserve the remaining cream for later.
Layer half the biscuits on the bottom of the dish, then top with half of the custard mix.
Layer one of the of the sliced bananas over the mixture then drizzle over some toffee sauce.
Place the remaining biscuits on top (reserving one for decoration) then repeat with the banana mixture, banana slices, then toffee sauce.
Top with the remaining whipped cream then leave to set in the fridge for at least 2-3 hours.
When ready to serve, decorate with biscuit crumbs from the remaining biscuit, the final sliced banana and remaining toffee sauce.