Freshly chargrilled flavour meets a rich Mediterranean tomato sauce.
Barbecue Chicken Fillets with Italian Sauce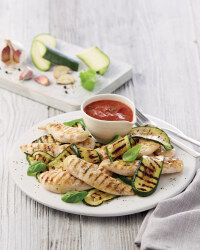 Recipe Information
Ingredients
1 pack Chicken Mini Fillets
500g Passata
3 cloves Garlic
20g fresh Basil
3 tbsp Olive Oil
2 Courgettes
Salt
Pepper
Method
Place the passata into a medium saucepan.
Crush 2 of the garlic cloves and add to the pan.
Bring to the boil, then simmer gently for 15 minutes, stirring regularly.
Finely chop 10g of the basil.
Remove the sauce from the heat.
Stir in 1 tablespoon of olive oil and the chopped basil.
Add salt and pepper to taste.
Thinly slice the courgettes lengthways.
Season with salt and pepper, drizzle over 1 tablespoon of oil and add a crushed garlic clove.
Season the chicken fillets with salt and pepper.
Drizzle over 1 tablespoon of oil.
Barbecue or grill the chicken and courgettes, turning halfway through, until cooked.
Place the sauce into a serving bowl and put the chicken and courgette on top.
Sprinkle over fresh basil.