Easy Quorn tacos packed with fresh, healthy ingredients - perfect for light lunches.
BBQ Tacos with Quorn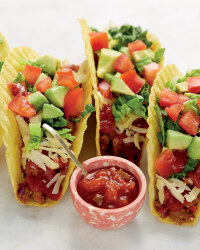 Recipe Information
Ingredients
1 x 308g pack Crunchy Taco Kit
1 x 300g bag Frozen Minced Quorn
1 Large Red Onion
1 Green or Yellow Pepper
1 Small Red Chilli
35ml Olive Oil
1 Little Gem Lettuce
1 Avocado
2 Large Vine Tomatoes
130g Grated Cheddar Cheese
Juice of ½ a Lemon
Method
Peel and finely chop the red onion. Chop the pepper into small chunks and discard any white pith or seeds. Finely chop the chilli – keep the seeds if you want your tacos a bit warmer.
Heat the oil in a large frying pan or wok. Sauté the onion, pepper and chilli in the oil for a few minutes, then add the Quorn. Cook for a couple more minutes, then add the contents from the seasoning bag that's in the kit and cook for a further minute. Add 150ml water and cook for a further 10 minutes.
Heat the taco shells as per directions on the pack.
Finely chop the tomato. Cut the avocado in half lengthways, remove the stone, scoop out the flesh and finely chop, then toss in the lemon juice. Shred the lettuce and add to the avocado and lemon juice.
Stuff the shells with the mince, pour over the salsa from the kit, sprinkle over the cheese then top with chopped tomato, lettuce and avocado to serve.