Baby Weaning, 9 months, Beef Curry with Rice
Beef Curry with Rice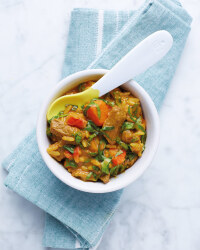 Recipe Information
Ingredients
150g Diced Beef
1 tsp Vegetable Oil
½ Sweet Potato – around 120g, peeled and cut into 1cm cubes
30g Spinach, finely chopped
150g Chopped Tomatoes
Half a small Brown Onion, finely diced
200ml Boiling Water
¼ tsp Ground Turmeric
¼ tsp Ground Cumin
Pinch Curry Powder
30g Long Grain Rice
2 tbsp Coconut Milk
Method
Cook the finely diced onion in oil until translucent.
Cut the beef into smaller cubes and cook with the onions until browned.
Add the sweet potato and rice, then the turmeric, cumin and curry powder and cook on low for 2 minutes.
Add the chopped tomatoes and boiling water and simmer for 25-30 minutes until the beef is tender and sweet potato is soft.
Add the coconut milk and spinach and simmer for 5 minutes.
Serve the beef curry warm. Blend or mash to achieve your desired consistency.