This classic Russian dish is wonderfully hearty and perfect for dinner.
Beef Stroganoff with Braised Rice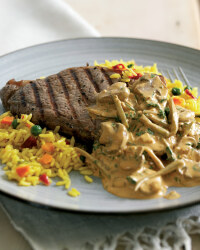 Recipe Information
Ingredients
2 tbsp olive oil 2 small onions, finely chopped
1 clove garlic, peeled and crushed
200g chestnut mushrooms, sliced
100ml (a small glass) of brandy or sherry
2 tbsp paprika
300mls double cream, roughly
Half a beef stock cube
Coarse ground black pepper
1 pot fresh parsley, roughly chopped
4-6 small gherkins, sliced and then cut into fine strips
4 x approx. 250g Sirloin steaks
2 x 250g golden microwaveable rice
Find your ingredients online on Click & Collect or find your nearest store using our Store Finder.
Method
Heat the oil, then add the onions and garlic and cook for 5-6 minutes, to soften slightly.
Add the mushrooms and brandy and bring to the boil, cook until the mushrooms have cooked for 3-4 minutes.
Add the paprika, cream, crumbled stock cube and a little pepper, bring to the boil, if nice and thick, and turn off the heat.
If you do not have a nice consistency, then cook for a few more minutes. Once you are happy, add the parsley and gherkins, season and mix well.
Keep warm and covered.
Grill or fry the steaks to your liking, slice and arrange on a plate, then spoon over the sauce.
Serve with the cooked golden microwaveable rice.