An update on the classic roast beef dinner.
Beef with Horseradish Crust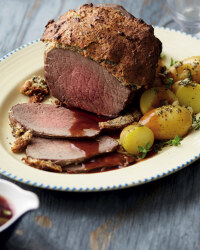 Recipe Information
Ingredients
1 kg (approx) Specially Selected Dry Roasted Beef Joint
50g Bramwells Horseradish Sauce
½ tsp Stonemills Black Peppercorns
½ tsp Stonemills Garlic Granules
1 tsp Stonemills Thyme
20g The Pantry Self Raising Flour
100ml Baron St Jean Red Wine
Quixo Beef Granules
500g Salad Potatoes
Sea Salt and Black Pepper
Butter for the Potatoes
Method
Pre-heat the oven to 200°C/400°F/Gas Mark 6.
In a mortar and pestle – grind the black peppercorns. Put the horseradish sauce, garlic, thyme and peppercorns in a bowl and mix well – add the flour and mix well to form a paste.
Put the beef joint in a roasting dish, spread the horseradish mix over the top.
Pour the red wine around the joint. Loosely cover with a piece of tin foil. Roast in the oven for 30 minutes – remove the foil and roast for a further 15 or 30 minutes depending on how you like your beef.
Remove the beef from the oven – cover with some foil and let the meat rest for 15 minutes. Cook the potatoes in some boiling salted water for 10 minutes – drain and serve with some butter and black pepper.
Use any beef juices to make up the liquid when making the gravy as per directions on the pack. Great served with Specially Selected Yorkshire Puddings and Four Seasons Garden Peas.