Perfect, irresistible chocolate brownies with a dense, moist texture thanks to the naturally sweet beetroot. Enjoy them warmed with a spoonful of vanilla ice cream.
Beetroot and Chocolate Brownies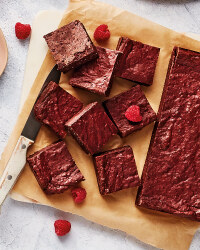 Recipe Information
Ingredients
250g Cooked Beetroot
200g 70% Dark Chocolate
160g Solid Coconut Oil
3 X Medium Eggs
30g Cocoa Powder
130g Plain Flour
150g Caster Sugar
1 X Tsp Vanilla Essence
1 x oblong deep baking dish approx. 24 x 18cm
Method
Preheat the oven to 180c/350f/gas 4.
Break up the chocolate and put into a heatproof bowl along with the coconut oil.
Put the bowl over a pan of simmering water to melt the chocolate – make sure the bottom of the bowl does not touch the water.
Once the chocolate and oil have melted – put on one side to cool a little.
Chop up the beetroot and put into a food processor along with the caster sugar, vanilla essence and eggs – process till you have a smoothish purée.
Mix the chocolate and the beetroot mixtures together in a bowl.
Then sift in the flour and cocoa powder.
Mix well.
Pour the mixture into the greased tin.
Bake in the oven for 25 mins.
Serve warm with some ice cream or cold with a hot drink.