Shortcrust pastry tart filled with beetroot, leek, cheese and crème fraîche.
Beetroot and Leek Tart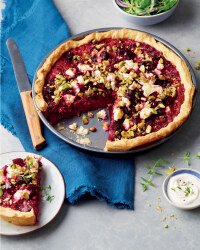 Recipe Information
Ingredients
250g Cooked Beetroot
200g Leeks
375g pack Ready Rolled Shortcrust Pastry
3 Medium Free Range Eggs
150g Lighter Crème Fraîche
120g Lighter Mature Grated Cheese
15g shelled Pistachio Nuts
30g Salted Butter
Salt and Black Pepper
Sprinkle of Dried Thyme
1 x 20cm fluted loose bottom quiche tin
Method
Pre-heat the oven to 190°C/Gas Mark 5.
Roll out the pastry and use to line the quiche tin. Prick the base with a fork a couple of times, then line loosely with some foil and bake blind for 7 minutes. Carefully remove the tin foil and put back in the oven for a few more minutes to dry out the base.
Meanwhile, wash the leeks and dry. Cut in half lengthways then slice each half thinly.
Sauté the leek in the butter for a few minutes until lightly coloured.
Break the eggs in a bowl and whisk. Add the crème fraîche, thyme, grated cheese and leeks, then season with some salt and black pepper.
Pat the beetroot dry and dice. Add to the leek mix and fold through.
Put the mixture into the pastry case.
Finely chop the pistachios and sprinkle over the top.
Bake in the oven for 25 minutes until set.