A wonderful dessert option
Beetroot Brownies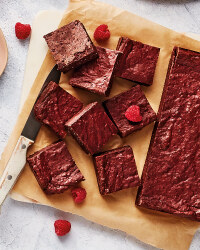 Recipe Information
Ingredients
3 Medium Eggs
175g Plain Flour
150g 70% Dark Chocolate
1 tsp. Vanilla Essence
3 tbsp. Coco Loco Coconut Oil
500g Natures Pick Cooked Beetroot
Method
Pre-heat the oven to 180°C/Gas Mark 4.
Grease and line the baking tray.
Blend the beetroot in a food processor until smooth, then set aside.
Break the chocolate into small chunks and place into a bowl, followed by the coconut oil.
Half fill a pan with water and bring to a simmer, then place the chocolate-filled bowl on top (make sure the bottom of the bowl doesn't touch the water).
Gently stir through the mixture as it melts.
Meanwhile, break the eggs into a second bowl and whisk for 2 minutes until light and fluffy.
In a large bowl, combine the melted chocolate mixture, beetroot purée and vanilla extract.
Next, add the flour, 1 tablespoon at a time, stirring to combine in between spoonfuls.
Carefully fold the egg into the chocolate mixture until fully combined.
Finally, pour into the tray and bake for 25-30 minutes until a skewer comes out clean.