A wonderful dessert option
Beetroot Brownies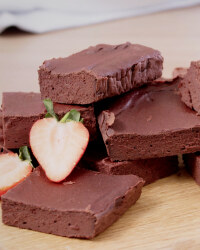 Recipe Information
Ingredients
3 Medium Eggs
175g Plain Flour
150g 70% Dark Chocolate
1 tsp. Vanilla Essence
3 tbsp. Coco Loco Coconut Oil
500g Natures Pick Cooked Beetroot
Method
Preheat the oven to 356F/180°c/Gas mark 4
Carefully line a medium baking tray with greaseproof paper and spread 1tsp. coconut oil over it.
Blend the beetroot in a food processor until smooth and set aside Half fill a pan with water.
Check the water is at the right level by placing a heatproof bowl on top and check it just touches the water, if not, add more or less and then place the bowl to one side.
Heat the water until it begins to simmer, then leave it on a low heat.
Break the chocolate into small chunks and place into the bowl followed by 3tbsp. coconut.
Gently stir through the mixture as it starts to melt.
Meanwhile, break the eggs into a bowl, and whisk for approx. 2 minutes until light and fluffy
Now, with an oven glove, pour the chocolate into a large mixing bowl.
Next add the beetroot purée and vanilla essence then gradually add the flour, a tbsp. at a time and mix well.
Carefully fold in the egg mixture, in 3 stages, ensuring the air is kept within the mixture.
Finally pour all the ingredients into the tray and bake for 25-30 minutes.
Be sure to check after 20 minutes with a fork, if the fork comes out clear then the brownies are ready!