Hollow chocolate bunny filled with a fruity lemon and berry smoothie.
Berry Lemon Chocolate Cup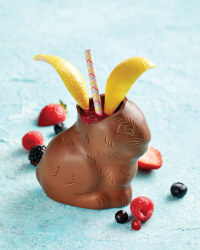 Recipe Information
Ingredients
200g Frozen Summer Fruits
100g Fat Free Yogurt
65g Lemon Curd
Dairyfine Milk Chocolate Easter Bunny
To Garnish:
Lemon Wedges
Method
Simply pop the frozen summer fruits, yogurt and lemon curd into a blender and mix them together until smooth.
Sieve to remove any seeds.
Remove the ears of one of our hollow Easter bunnies and pour the mixture into it. Garnish with lemon wedge ears.